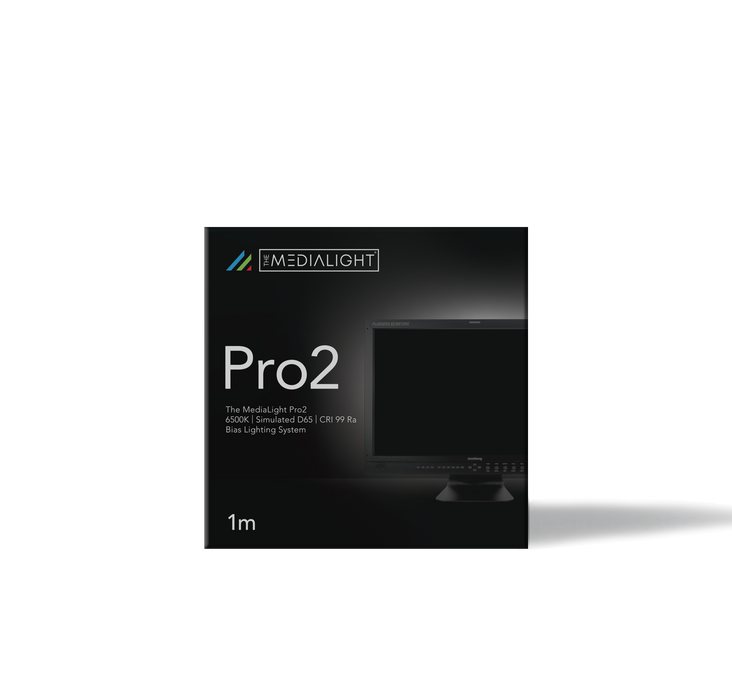 MediaLight Pro2 CRI 99 6500K White Bias Lighting
Sale
Sale
Original price
$69.95
-
Original price
$269.95
Description

Specifications

Size Chart
The MediaLight Pro2
A new standard for accuracy and comfort
Please note: If you are not a professional colorist, you probably intend to buy the Mk2 Series instead.
The MediaLight Pro2 Bias Lighting System was created for directors, editors and colorists who need the highest CRI and the most uniform spectral power distribution in a bias light for their professional displays. 
The Pro2 uses a new class of ColorGrade™ MPro2 SMD (LED) chips, powered by blue-violet emitters that virtually eliminate LED emitter spike, with an incredible color rendering index (CRI) of 99 Ra, TLCI 99.7 Qa, and Spectral Similarity Index (SSI) of 88. The included flicker-free dimmer operates at 30KHz (30,000 Hz versus 220 Hz for other MediaLight dimmers -- and yes, we do sell the dimmers separately, so that you can add them to your existing setup -- but please remember that you don't need to add one to this unit because the flicker-free dimmer is already included). 
The Pro2 does not include a remote control. Instead, it includes our highest quality, flicker-free dimmer. You can request a remote dimmer to be added to your order at no charge but you will give up the flicker-free dimming function. We hope to offer remote options in the future but, for now, SPD and temporal resolution win over remote convenience. If you want a free remote and dimmer please email us with your order ID and your display model. This is important to avoid infrared remote control interference with other devices. 
Just in case you haven't come across SSI before, it's a comparison of a light source to a reference illuminant; in this case, the CIE standard illuminant D65. It compares the spectral power distribution (SPD) of the light source to the SPD curve for D65. For the sake of comparison, the very accurate MediaLight Mk2, with CRI 98 Ra, has an SSI of 70. As of this writing, the MediaLight Pro2 offers the highest SSI available for a production LED light source. 
Most commodity LED lighting systems fall apart in the R9 value which is not included in CRI calculations, but is necessary for the faithful reproduction of skin tones and deep reds. They are often replaced with much more energy-efficient, and cheaper green phosphors, which can result in a greenish color cast, even when used to illuminate a grey surface, such as is the case with bias lighting.
Beyond the blue-violet photon engine, which all but eliminates blue overshoot, The MediaLight Pro2 uses a special blend of phosphors that include these vital reds, resulting in a much smoother SPD and more natural light.
Here's the emitter spike for the original MediaLight Pro (because the luminance is relative, you'll notice how the emitter spike on the left eclipses the rest of the spectrum):

Note: There are many people who naturally gravitate to the most-expensive products available on this website. While, as a business, we certainly appreciate some of the peculiarities of consumer behavior, we want to let you know that everything that we sell on this website, from the $15 LX1 Bias Light to the most expensive MediaLight Pro is certified for accuracy, at a level that not only meets, but exceeds industry (SMPTE, ISF, CEDIA) standards.
TL;DR: Everything on this website can be used in a professional environment. 
So, why make new products like the MediaLight Pro2?
1) Because visual discernment varies by the individual and often improves over time. The more time that we spend with a piece of technology, whether it's a monitor, a camera or a light source, the more we become familiar with its strengths and flaws.
When 720p and 1080p TVs first came to market, some people compared looking at a 1080p image to looking out of a window. Now, we are looking beyond 4K. 
2) Because products like the MediaLight Pro2 anticipate advances in lighting technology, and where we need to be as a bias lighting manufacturer, over the next 3-5 years, even if we can't yet achieve mass-market pricing.
Just as the now-retired MediaLight Pro v.1 made the hugely-popular MediaLight Mk2 Series possible, our goal is to infuse what we learn from the Pro2 into all of our products. 
MediaLight Pro2 Specifications:
6500K CCT (Correlated color Temperature) simulated D65

CRI 99 Ra (TLCI 99.7 Qa) ColorGrade™ MPro2 SMD (LED) chips

Available in 1-6 meter lengths

1-4m versions can run on USB 2.0 or USB 3.0 (500mA minimum)

5-6m versions can be powered by USB 3.0 (900mA minimum)

Maximum luminance ~300 lm TOTAL (for 3-6m) and (~200 lm for 1-2 m). For applications where higher luminance is required (i.e. not most typical bias lighting applications), consider our 24 Volt MediaLight Pro2 product, which offers 800 lm per meter. 

8mm, 2-pin pure copper PCB strip

Included flicker-free dimmer (note: NOT remote controlled)

5v USB Power

Included wire routing clips 

Peel and stick 3M VHB mounting adhesive

5 Year Limited Warranty
For displays larger than 90", where 4-sided lighting is desired, we recommend placing the strip 3 inches from the edge, rather than 2 inches.  This is so that you don't run out of LEDs before you get around 4 sides.

Please read if following the guidelines for "Display on a stand":
It's costs a bit less to use a shorter strip, but people have complained that the "halo" looks too diffuse when the lights are further from the edge of the display. This doesn't make the lights less effective, but you have fewer options and the strip might be too short for some configurations. You will have more options if you choose the sizes in the 3 and 4-sided recommendations. 


The shorter configuration still works for the 1m MediaLight Pro2 with a display up to 46". This is because, on a smaller display, the light from the different sides combines more evenly when the display is on a stand. (This is also why 3 sides will provide sufficient light for the bottom of the computer monitor. The left and right sides are still very close together compared to larger displays).