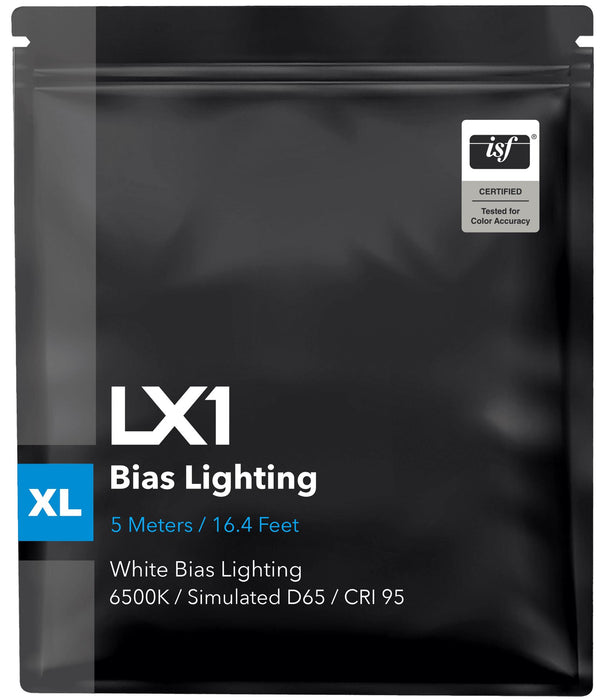 LX1 Bias Lighting CRI 95 6500K Simulated D65 White Bias Lights
Sale
Sale
Original price
$24.95
-
Original price
$62.95
Description

LX1 Features

Size Chart
Please note: The higher base price now includes a non-remote controlled button dimmer, but LX1 prices have not increased. You can still remove the dimmer option if you are supplying your own, and this will deduct $5 from the price. However, all bias lights should be installed with a dimmer, and all of our options are verified compatible with our products. When purchased with an LX1, the 2-year warranty for the LX1 applies to the dimmer. 
You've been looking for a reference quality light that doesn't break the bank.
Introducing LX1 from the makers of The MediaLight.
We know how frustrating it can be to find affordable, high-quality bias lighting. That's why we engineered LX1 Bias Lighting – an extremely accurate bias light at an affordable price point. It outperforms every single one of our competitors and costs less.
The best part is you don't have to sacrifice quality for affordability. By making some modest changes in specification to our flagship MediaLight bias lighting, we've been able to engineer a high-quality bias light that significantly exceeds industry standards. 
MediaLight became the industry standard for professionals around the world, used in virtually every studio in broadcast and film, and trusted by colorists for our extreme accuracy – but we never cracked the home theater market due to the higher price of The MediaLight. Until now. 
Now you can experience what it feels like to have professional-grade lighting right in your own living room. With LX1 Bias Lighting, you'll be able to see movies with accurate colors just as they were intended by the director. You'll also be able to enjoy more natural skin tones when watching TV shows or streaming videos. And if you're into gaming? You won't believe how much better games look with LX1 installed.
Get yours today. Your eyes will thank you. 
•6500K (ISF-certified for accuracy)
•Color rendering index (CRI) 95
•Connects via USB 3.0 to your TV (shorter lengths from 1m-4m work with USB 2.0, however, if using the WiFi dimmer, always use USB 3.0 to avoid dimmer mafunction)
•8mm width
•USB and DC connectors for limitless connectivity and controller options
•Includes 15 inches of power cable. (If your USB port is further away from the edge, you may need an extension cable. We offer an approved 0.5m extension for $7.95. One is also included at no charge with our MediaLight Mk2 Flex)
•Pair the LX1 with a dimmer (sold separately), to create a complete bias lighting system
•2 Year Warranty