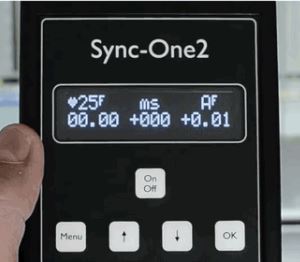 Harkwood Services Ltd Sync-One2 v2
Sale
Sale
Original price
$450.00
-
Original price
$450.00
Description

Specifications
Accurate AV Synchronization measurement made easy
Sync-One2 accurately measures audio video delays / errors to help you quickly set-up your system.  Trying to check any system manually wastes time and relies on guessing with trial and error adjustments.  Using a Sync-One2 is fast and accurate.  Details of common problems can be found in the FAQ.
The MediaLight Bias Lighting warranty does not extend to any Sync-One2 or any other non-MediaLight branded products., which are warrantied by their respective manufacturers.

Post Production or film editing then sync is essential to the production process
Professional AV ensure your systems are installed correctly for your clients
Digital Cinema when installing or checking a cinema ensuring the sync is accurate makes for happy customers

Offer System Calibration services

 then complete the job by ensuring the sync is sorted too
If you are involved in any of the above then Sync-One2 is the tool you need.
Using a Sync-One2 takes away the guessing and saves time by accurately measuring the AV sync error.  Displaying the error in milliseconds and/or frames, and if the audio leads or lags with reference to the video, all in real time.  With this reading you can make an accurate adjustment to your system. No guessing, no time wasted, Sync-One2 makes it easy.  A system can be checked and corrected in just a few minutes saving time and money.
Used by professionals around the world as the reference tool of choice in Post Production, Digital Cinema, Professional system Calibrators,  TV networks, and many more who rely on accurate AV sync.
Audio
Internal microphone for audio pickup
New in v2  3.5mm stereo (down mixed to mono internally) audio jack for connection to headphone or line out as a direct audio feed.  Supports up to 3v RMS (9v peak to peak) maximum line input.
New in v2  External audio detection is automatic, but may be overruled via a menu option
Accuracy
Measurement of audio visual delay up to ±750 milliseconds
Display is rounded to the nearest 1 millisecond or 1/100th of a frame, internal timing resolution of 0.05 milliseconds between light and sound pulse
Self calibration adjusts for ambient noise and light, including fluorescent/ LED light flicker
Automatic microphone gain adjustment during calibration process  Updated in v2
Adjustable audio trigger level (default is high sensitivity)
Adjustable video trigger level (default is high sensitivity)
New in v2  Adjustable Mask Time (the minimum time before Sync-One2 re-arms for the next reading), to help with measurements in spaces with long reverberation times.
General
Dimensions (H x W x D), 144mm x 90mm x 30mm (5.6" x 3.5" x 1.2")
165g (5.8oz) excluding batteries
16 x 2 OLED display for easy viewing, fast response, and low power consumption  Updated in v2, now brighter and blue
Operating temperature from 5 to 50 Celsius (41 to 122 Fahrenheit)
New in v2  System firmware is upgradeable to enable upgrades for new features or bespoke custom requirements
New in v2  The ability to add a custom splash text message on startup
New in v2  The ability to order Sync-One2 v2 with a permanent splash text message, so it's easy for companies to add a brand or bespoke identification
Power
2 x AA (LR6) batteries, rechargeable AA batteries are fine too
Reverse battery protection
Battery life from standard AA batteries is around 50 hours of continuous operation
A tiny current of less than 0.1 µA is used when off.  Even so when not being used for a while it is always best to remove the batteries
Low battery indication and auto shutdown when batteries become too low to maintain accuracy
New in v2  Can be powered via the USB Mini-B port
New in v2   Data logging and API interface
Via the USB Mini-B port real time logging of readings
An API interface to enable remote control of Sync-One2 v2 to automate testing / system adjustments, or to gather data for system compliancy reporting
A separate manual contains the API commands available
to assist search within our website: sync, sync one, snyc one,