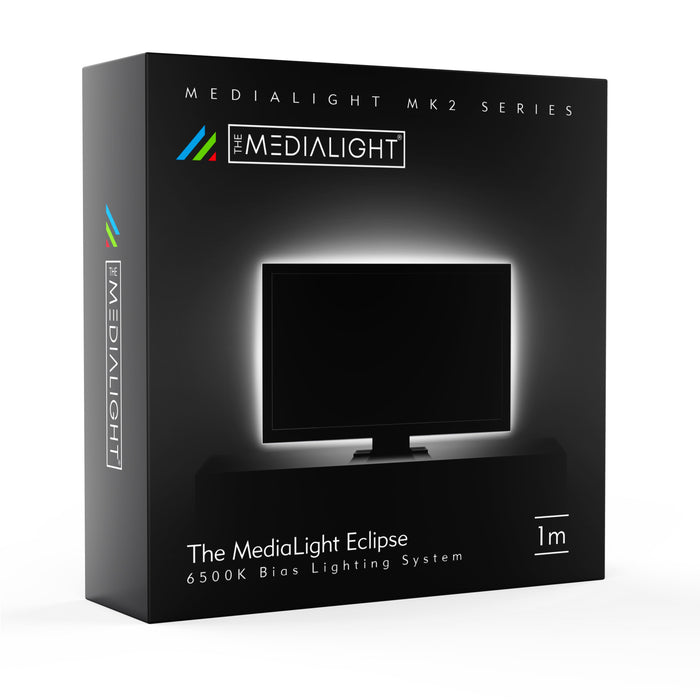 MediaLight Mk2 Eclipse 1 Meter (For Computer Displays)
Sale
Sale
Original price
$35.95
-
Original price
$49.95
Product details

Specifications

Sizing chart
The MediaLight Mk2 Series: 
Optimal Lighting For Color-Critical Video
Viewing Environments
It's not just about getting that perfect shot; it's also about making sure that what you see on screen is exactly what others will see when they watch your work. That's why we've designed our products with accuracy in mind - so you can be confident that every detail of your project will be represented accurately on any viewing device.

The MediaLight Mk2 Series was developed to provide an accurate, Simulated D65 "dim surround" bias light solution for the most demanding home cinema and professional video editing applications.

The Mk2 Eclipse 1m combines ultra-high CRI and color temperature accuracy with the convenience and portability of a USB-powered LED bias lighting system. Color-stable dimming and instant warmup ensure that your surround light is always on target.
All MediaLight Mk2 Series products share the same simulated D65 spectral power distribution, avoiding perceptual matching issues and ensuring consistent and controllable lighting. Order a MediaLight and see the difference for yourself. 

And now, the MediaLight Mk2 Eclipse 1 Meter strip includes our Flicker-Free dimmer in the box.  If you are interested in using the flicker-free dimmer in conjunction with a remote (Wi-Fi or Infrared), please contact us for information. Some special accommodations are required. 

MediaLight Mk2 Specifications:

High-accuracy 6500K CCT (Correlated Color Temperature)
Color Rendering Index (CRI) ≥ 98 Ra (TLCI 99)


Color-stable dimming and instant warmup

USB 3.0 Powered

8mm width
New version - Included Flicker-Free PWM dimmer (remote control is available at an additional cost, but the remote operates at 220Hz (not flicker-free)

Included 4 ft (1.2 m) USB extension cord (for monitors without USB ports)
Peel and stick authentic 3M mounting adhesive
5 Year Limited Warranty
Recommended for all displays, including High Dynamic Range (HDR)