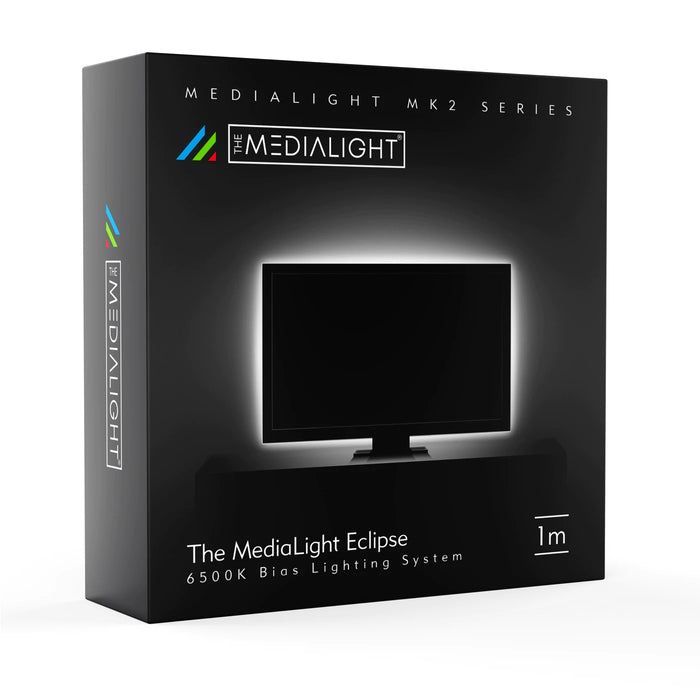 MediaLight Open Box Deals
Sale
Sale
Original price
$32.95
-
Original price
$99.95
Limited quantities of open boxes are available from our latest production run. They will not last.  If you are looking for a great deal and your preferred size is sold out, check our value-priced LX1 range!
Limit 3 open boxes per customer. We will cancel larger open box orders. If you need to place a large order, please contact us about volume discounts on our new units.
This policy prevents a few people from buying our entire inventory (to resell at full price) and leaves more deals for everyone. 
All Mk2 units sold on this page are test units. We test random units from each carton to take measurements. These are not customer returns or refurbs, however the seal on the box has been broken by MediaLight staff. (Note: If there's a box that's dinged or dented in transit, we often test those first).

We just added our first LX1 open box. It is the very popular 5 meter size. It is large enough for 3 sides of a display up to 115" and 4 sides of a display up to 75". Why is it an open box? We had some extra PCB from before we came up with the LX1 logo, and it is stamped with LX1 text rather than the official LX1 logo. Rather than waste it, we figured that we'd offer a special deal and use it to make a Black Friday version. The lights are otherwise identical and we're tossing in a free infrared dimmer(a $7 value). This is a ridiculous price for a great bias light for a monster TV.  (This free remote is the one that has the least problems with Vizio and Bravia TVs, by the way). 

If we don't have your model as an open box, we encourage you to check out our new LX1 Bias Lighting product range. The LX1 obliterates anything else at its price range (about 1/3 the price of MediaLight), with CRI 95, ISF-certification and extreme accuracy. 
We also sell refurbished customer returns from time-to-time. Those units will be marked as [Refurb] in their product name. 
Open box units:
Include the same 5 year warranty as our unopened units
Are in good-as-new condition
Are a great way to save some money while helping us to offer a flexible return and exchange policy
INCLUDE ALL COMPONENTS FOUND IN A NEW MODEL, INCLUDING DIMMERS (where the new model contains a dimmer). 
Please refer to the product descriptions on the "new unit" individual product pages if purchasing an open box unit. The open box unit is identical in every way. If the strip's adhesive as already been used, it does not qualify as an open box; only MediaLight Bias Lights in "brand new" condition. 
Our commitment to you doesn't end after you purchase a MediaLight. It extends beyond our 5 year "everything component is covered" warranty.  
What's the catch? We want you to be so happy with the quality of the product and service that will return to add more lights to every TV and display in your home and office, and maybe even tell a few friends.